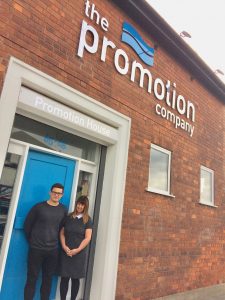 We are pleased to announce that Joe Oldroyd has been appointed as a Director of The Promotion Company.
Joe initially started working with his family's firm during the school holidays, helping out with the printing and packaging of promotional items and work wear.
Interested in a career as a sport journalist, he completed a degree in Journalism at The University of Leeds then moved back to East Yorkshire to work in the leisure industry and after two years, felt drawn to a position at The Promotion Company.
After joining the family firm in 2015, Joe progressed from Sales Assistant to Sales Manager, bringing a fresh perspective to the business.
He says:
"The family aspect adds a really different dimension to working life, making it a lot more personal and I really enjoy working with my parents and the rest of the team."
"As the business moves forward I am becoming a bigger part of the decision making and feel happy to be contributing to its even greater success."
Angela, Director of The Promotion Company says:
"Joe hasn't had any special dispensation as a family member, if anything he has worked even harder to prove himself as a very valuable asset to The Promotion Company. As both his parents and directors of the business, Richard and I are very proud and excited to watch Joe's career roll out, we are both delighted that he has become a Director.