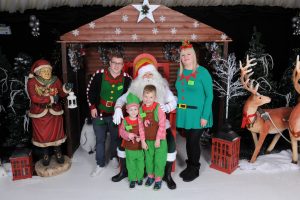 The team at The Promotion Company (TPC) first came across When You Wish Upon a Star ten years ago when a little girl, known to the family was diagnosed with a terminal brain tumour. During this devastating time, the charity provided much-needed support and helped the family to make lasting memories.
Seeing the benefits When You Wish Upon a Star offers to families, TPC became involved to help raise vital funds so it can continue with its important work.
Over the last ten years, with support from friends, family and business colleagues TPC has raised over £15,500. This has included the sponsorship of a reindeer (soft toy) which is an annual commitment to raise money throughout the year.
The team also attends many of the events organised by the Charity including the annual ball and a journey on the Northern Belle, sending money direct to the charity.
Angela Oldroyd, Director of The Promotion Company says:
"The most fulfilling part of supporting When You Wish Upon a Star is helping out on the Santa Express trips and spending time with the children. It makes you realise how precious life is and the difficulties some families go through."
"The Santa Express is such a happy event, it is great to see the children smiling and having fun and this is the reason each year we continue to support When You Wish Upon a Star."
Joanne Wright Regional Manager of When You Wish Upon Star says:
"Our charity mission is to grant the wishes of children living with life threatening illness. To do this we rely on donations and fund-raising events organised by local people. Angela Oldroyd and her team at The Promotion Company are long-standing supporters and each year they come up with new ways to raise money for us – always putting on a good show for their guests!"
"We are so grateful for this continued support as the money raised helps us to not only offer over 100 children, with life threatening and terminal illnesses, the opportunity of a magical day on board the Santa Express with their families, but also to be able to make many individual wishes come true such as meeting a favourite celebrity, family holidays and equipment."
"I am pleased to hear that Angela gets so much out of supporting us and by helping at our events, this shows its more than a one-way street and I would like to thank Angela and her team for everything they have done to help our charity continue."