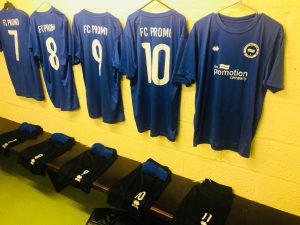 The Promotion Company is delighted to once again sponsor local football team FC Promo.
The team were originally formed in 2012 and competed for four seasons on Sunday mornings, and after a couple of years absence, have decided to reform and join the East Riding County League on Saturdays, joining in Division Three.
FC Promo hopes to carry on where they left off, after winning the East Riding FA Chairman's Cup and achieving promotion in their final season on Sundays.
Former box-to-box midfielder Michael Mitchinson has decided to take more of an off-field role this season and will be taking the management reigns, he said: 'I'm absolutely delighted to be the new manager, I'm still going to be registered as a player but will be leading the boys off the pitch."
'We've assembled a great squad, keeping the spine of our cup winning squad but adding in some new players who have the quality to take us to that next level."
"Most of the lads have gone off and worked hard at other clubs for the past two seasons, but it's great to have them all back in the fold, it's going to be an exciting season."
The boys will start on Saturday 8 September against Gilberdyke Phoenix FC, before a visit to Kingswood to face Queens County on 22 September and then welcoming South Park Rangers on the 29 to the Leconfield Recreation Club.
Best of luck FC Promo – from us all at The Promotion Company.